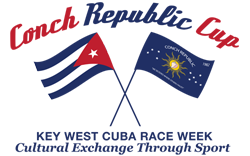 Hemingway International Yacht Club of Cuba
and Key West Community Sailing Center
present the 10th
Conch Republic Cup
January 26 – February 3, 2018
This regatta is open to all ocean capable yachts with a length overall of at least 26ft for monohulls and 24ft for multihulls. The organizing authorities recommend that all participating vessels comply with ISAF OFFSHORE SPECIAL REGULATIONS category 3.
Participating vessels will require a South East Florida PHRF rating.
FEES AND PERMITTING
Due to recent changes in the government process boat owners no longer need to register with BIS to get the Applicant ID. 
Conch Republic Cup will be responsible for your Coast Guard CG3300 Permit submission.
We do have a boat limit so please register early!
---
CG 3300 Form may be mailed or scanned and emailed to the following:
CRC C/O Karen Angle
1107 Key Plaza #327
Key West, FL 33040
---
Please list all crew members that MAY ATTEND the event. You are required to list all potential crew on the CG3300 when it is submitted to the Coast Guard, no additions will be accepted. You may remove potential crew until race day.
Applicants who send CG3300 in time shall be entitled to a full refund in the event we do not secure CG3300 Permit. Refunds may not be issued if permits are secured. Deadline for us to receive CG3300 form is December 15, 2016. Any late forms or changes to the form after that time may result in the inability to race due to permit not being received back from the Coast Guard in time which will constitute forfeiture of entry fees.
Due to the process being new not all variations of application can be guaranteed for acceptance specifically foreign registered vessels and Cuban born individuals.
All Vessels are also required to fill out the US Customs Form I-418 before returning to the US http://www.ilw.com/forms/I-418.pdf. It will be required upon return to the US and check in to Customs.
Captain and crew are required to sign a "disclaimer of liability" on www.yachtscoring.com
All CRC participants will need current passport with at least 6 months remaining until expiration from the time they intend to leave Cuba. Passport should have at least 2 blank pages.
Conch Republic Cup is not requiring insurance to participate in the race week. Conch Republic Cup is also not accepting any liability for any participant or their equipment. All participants will be signing a release of liability waiver prior to racing.
CG3300 information on filling out form:
Vessel Owner/ Operator listed at top of form need not list themselves again in Section 3. That is the section you need to list all crew besides yourself.
Section 2: Intended Cuban Destination Port: Varadero & Havana
Section 2: Approximate position of intended entry: Latitude 23.18N Longitude 82.04W
Section 4: Purpose of Voyage: To participate in the Conch Republic Cup, a Cuba/US sailboat event designed to promote person to person intercultural exchange
Section 4: My OFAC license #: see Appendix I
Section 4: My Commerce #: see Appendix II
We will supply the necessary Appendices with each CG3300 that we submit to the Coast Guard.
All other forms will be filled out after registration and will be covered at the skippers meeting.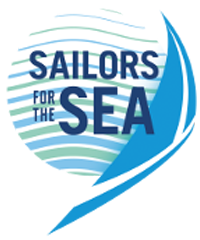 We are proud to announce that we have joined the race to restore ocean health with Sailors for the Sea's Clean Regattas program. Protecting our local waters is very important to this regatta and we ask for your help in this effort. The ocean, lakes and rivers of our planet are in crisis with plastic pollution, oil spills, and marine debris threatening marine wildlife and human health. To learn more about this initiative visit www.sailorsforthesea.org
We ask for your help on the following items:
Ensuring recycling and trash is separated properly before disposing of waste
Switch your team over to reusable water bottles
Place an oil absorbent pad in your bilge
Ensure that your head is secured and observe the no discharge rule